Using DrsMagic
---
NYC4 Specific Questions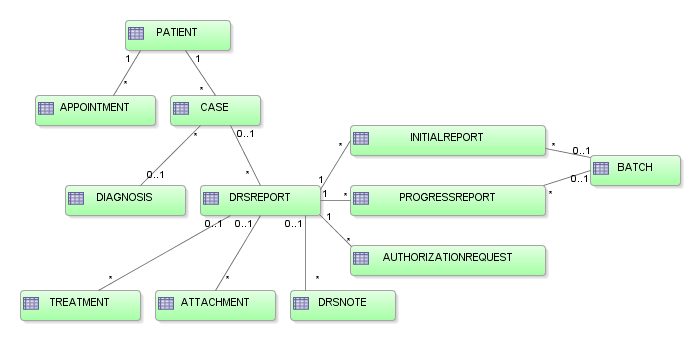 Can I add services in different dates in the same report?
Yes, Patient > Case > Treatments, you can add treatment with different date of service, when you have more than 6 treatments, the software automatically prints form C-4.1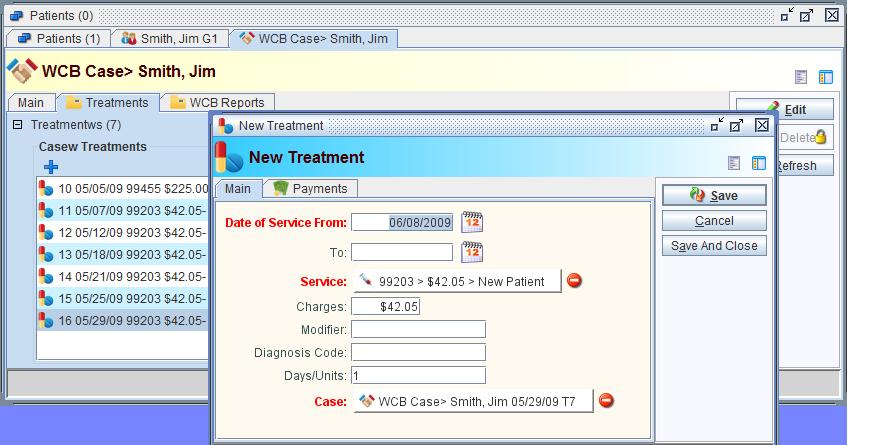 Do I need to select "Supervised Doctor"?
No, if the service is provided by one single doctor (the "Authorized Doctor").
Yes, if the "Authorized Doctor" supervised the "Supervised Doctor", who provided the service. (2 doctors here)
Can I print "EC-4 NARR" form?
EC-4 NARR form may only be submitted electronically.
DrsMagic creates C-4 and C-4.2, which can be printed as pdf to submit to insurance carriers. The software automatically converts to EC-4 NARR XML format to send electronically.
Can we save our own templates to be reused?
Yes, this shows a simple example of Doctors Opinion templates.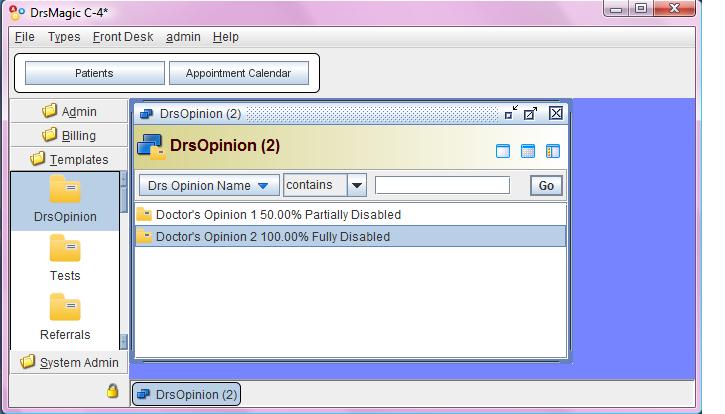 DrsMagic User Interface
How to add new Patient?
There are several ways to add new patient:
Click "Patients", right mouse click on the top bar > select "New"
Click "Patients", Ctrl-n
Click "Appointment Calendar", double click on the time slot > (brings up New Appointment) > on "Patient", left mouse click on "+" icon, select "Browse" > click "New" button at the bottom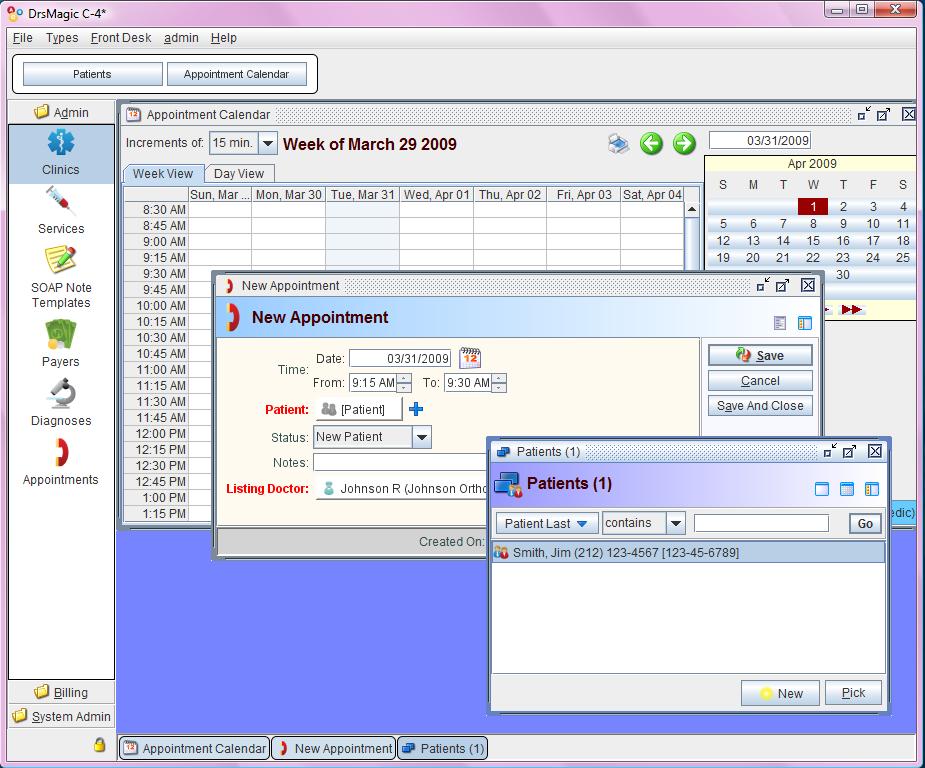 How to quickly close the windows?
On empty spot, right mouse click > [Close All]
Ctrl-w closes the currently focused window.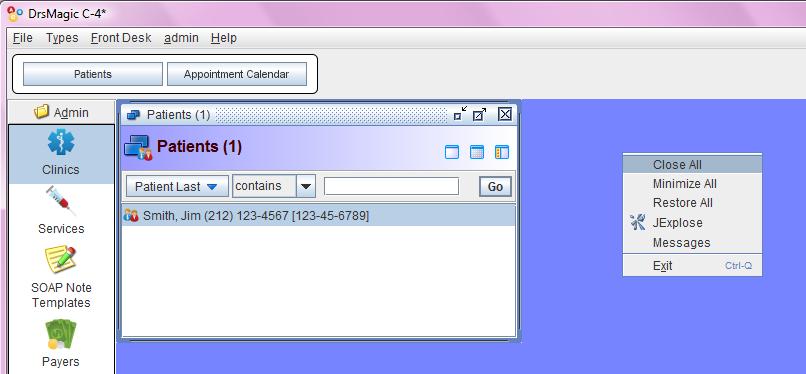 Copy and Paste
You'll find this feature to be a little more powerful and interesting compared to the basic clipboard copy/paste feature. The main difference is that unlike the clipboard, where you get one temporary area to copy to, there is a temporary "buffer" area for every distinct type.
So, for example, I can go about and copy a Patient here, a Case there and both copies exist in memory simultaneously, each in its own buffer. I can then, say, create a new Patient instance and right-click "Paste" on the title view for the new instance. All of the information is copied over.
You'll find these commands in the title view's context menu, as shown below.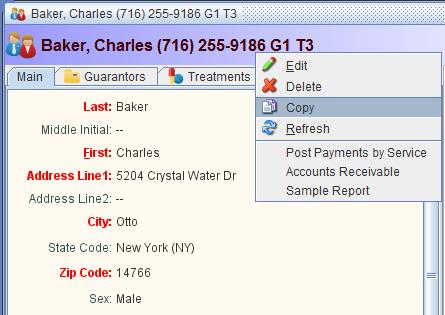 When you are editing, you'll see "Paste" command, as shown below.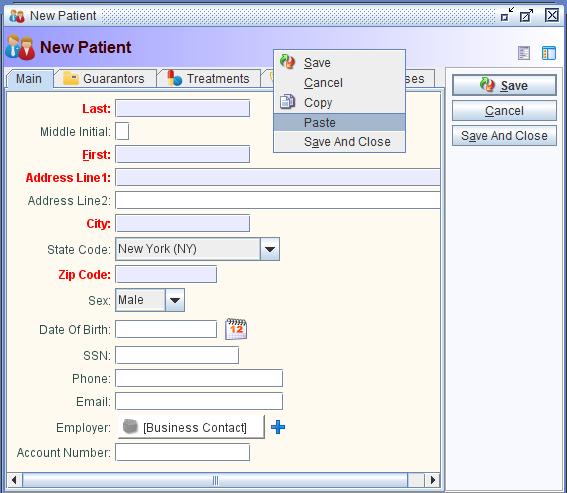 How to save my query?
On the title bar, right mouse click > [Find] > select the search field and criteria > [Save Query]
The queries are saved on [Admin] > [Queries]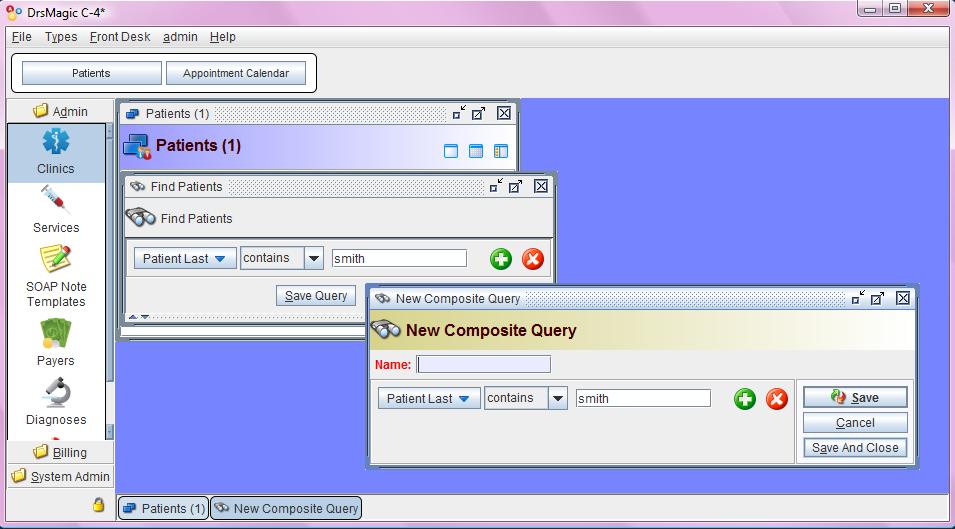 How to export data to CSV?
On the title bar, right mouse click [Export to CSV]