CMS 1500-EDI / Workers Comp C-4
Electronic Medical Record and Billing
Recent New York Times article shows most small clinics with 1-3 doctors arenít using electronic health records. According to American Academy of Family Physicians, $30,000 per doctor minimum amount required to implement an e-health records system. It is our mission to bring doctors to the digital era with the latest technology that makes the transition to the digital era at an affordable price and the same time an enjoyable experience.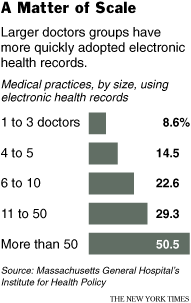 DrsMagic strives to meet the needs of clinics and medical billing professionals. Our developers combine decades of experiences in computer programming with latest cutting-edge technology. With database support, you will find the patient records in a few key strokes, not through piles of paper folders. What is most important, DrsMagic performs stringent checks to allow you to correct those mistakes before submitting claims to avoid delay. Our build-in electronic insurance filing (EDI) capibility allows you to bulk file and get paid faster. DrsMagic makes comprehensive reports on the payment status. With a few clicks and key strokes, doctors can retrieve and add diagnoses and SOAP notes, attach relevant files such as X-ray images to patient's record.
Our cutting edge technology is also applied to the new forms of New York Workers Compensation Board. In this case, the DrsMagic platform can handle both paper and electronic XML filing of the C-4* forms.